A Wibsey Medical Family
(First published in 1989 in volume 4, pp. 53-60, of the third series of The Bradford Antiquary, the journal of the Bradford Historical and Antiquarian Society.)
Dr James Threapland Henderson's death in 1936 brought to an end the long association of a family of medical men with the village of Wibsey. Indeed it is probable that the first doctor in the family practised in the locality before 1700, but establishing a direct line of ancestry is difficult because the parish registers for Holy Trinity Church, Low Moor (formerly known as Wibsey Chapel) are all missing for the period between 1722 to 1744, as are the marriage registers between 1754 and 1781.1 During those years the male line of the Threaplands appears to have died out, but in all probability the name was perpetuated on the female side upon a marriage into the Warburton family , just as at a later date Isabella Warburton called one of her sons - the above Dr Henderson - James Threapland.
An inscription on a gravestone in Holy Trinity churchyard reads:
…SAMUELIS THREAPLAND MD obit…die Aprilis Anno Domini 1707 Aetatis Suae 63
…JOSEPHI WARBURTON de WIBSEY qui naturae debitum absolvit die Septembris vicesimo tertio A.D. l801 Aetatis suae 80
Also of JOHN WARBURTON the son of JAMES THREAPLAND AND SARAH WARBURTON who died August 11 1825 in the 9th year of his age
ALSO of JAMES THREAPLAND WARBURTON son of the above who departed this life JANUARY 7 1859 in the 44th year of his age
While the use of one gravestone by two differently named families may not be accepted as proof of relationship, the introduction of 'Threapland' into the last two Warburton inscriptions points to a strong probability of family connections. Apart from the above Samuel Threapland MD, no other member of the family is known to have had a medical qualification, but James Threapland Warburton, who was baptised at Holy Trinity, on 28 November 1755, and whose father's name was Joseph, practised as an apothecary in Wibsey. Frequent use of these three names, together with the omission of the middle name, 'Threapland', makes it difficult to distinguish between the different branches of the Warburton family. In 1800, for example, four persons, at least, bore the three names, and more were to be christened in this way in the early part of the 19th century.
It can be said with certainty, however, that James Threapland Warburton, baptised on 28 November 1755, became an apothecary because a notebook in which he recorded visits to his patients, with accounts and prescriptions, survives. In fact the vellum covered book measuring about 7in. x 3in. seems first to have belonged to his elder brother, Edward who wrote on the front inside cover:
Edward Warburton Book
Wibsey
Near Bradford
Yorkshire
February 22nd 1777
Edwd. Warburton
Natus
Aug 15 1751
Then follows
James Threapland Warburton
October 14th 1755
When this you see
Remember me
and bear me in your mind
What others say
When I'm away
Speak of me as you find
James seems to have been of a somewhat serious disposition, for on the rear cover in the same hand is
James Threapland Warburton, Wibsey
1786 Etatis Sue 30
God is Omnipotent
his Power no Creature
can withstand
J T W Repent in Time

before it be to(o) late
What apparently happened is that Edward began to use the book in 1777 for 'business purposes', but the entries take up only a few pages, with wide gaps between them. The first page (reversed) contains an account headed 'Bot. Deel for Drawers', below which James has written two prescriptions.2 On another page headed '1777 Goods Sold' the writing is difficult to interpret, but 'Rosset' occurs several times, e.g., 'Two Rossets to Pollards 29/-' and on 6 February 1777, '4 Ribd at 29/3 Brac of Plows - £5 17 0'. 'Rosset' is an unusual term, but in this instance it is likely to be
"a coarse homespun woollen cloth of reddish brown, grey or neutral colour, formerly used for the dress of peasants and country folk."
(O.E.D.)
The meaning is specially appropriate because Edward Warburton is recorded as a weaver at the time of the birth of his first child, a son, baptised James Threapland in 1781. There are also two or three short accounts giving details of other aspects of Edward's activities, such as weights and measurements of warps, and one, '1777 John Ward, Weaver' has columns headed 'Gears' 'Slay', 'Sizing' and 'Weft'.
One loose page headed 'Jno. Tordoff Dr. 1785' is devoted to needlework, but the writing here is probably James's and the date seems to bear this out. It reads:
Sarah working 4 days and a half 2s. 3d.
A shirt making 3d.
A frock finishing 2s. 8d.
Quilt, quilting and wool 6s. 2d.
Martha slip making 1s. 2d…&c.
These scattered jottings are interesting but they do not enable us to form a very coherent picture of the life and economy of the Warburton household.
One of James Warburton's entries heralds the start of a diary, but after a few comments on the weather and local events, the section, which begins in 1782, soon comes to an end.
MEMORANDUMS
May 4th. 1782 Mr John Whitaker Apothecary of Bowling died greatly lamented and deservedly esteemed by all his acquaintance.
Same year a most intense cold backwards Spring when the snow laid on the Southern hills at Old May Day and at New May Day nearly one half of the Oats at Wibsey were to sow - in about June the same year a Disorder prevailed in Most parts of Europe termed the Influenza whereof in some parts many died.
John Bolland died same year
Malt sold at Three Pound a quarter and oat meal sold so high as 39 shillings per load, some as high as 40 shillings3
The high price of corn was the source of much trouble, as the next entry shows.
1783 On Whitsun Monday June 9th.
The riot came to Wibsey and Bradford and sold Oat Meal at 30/- per load to the populace.
Working people in northern parts relied greatly upon oatmeal, which they ate in a variety of forms, the flat oatcake (or havercake) being the most familiar to us now. John James refers to incidents such as the above in The History and Topography of Bradford.
"Riotous mobs, in 1783, assembled in Bradford and the neighbouring market-towns, and demanded an immediate reduction of the high price of corn. On the market days, and at other times, they seized all the corn and meal on which they could lay their hands, and exposed it for sale at their own price."4
It will be noticed that 'the riot' on June 9th was selling oatmeal at 9 or 10 shillings below the price at which it was offered previously.
The last entry on this page is:
On Thursday evening July 10th 1783 a Most tremendous Storm of Thunder and lightning which began near Eleven o'clock at Night and Continued till near 1 o'clock next morning.
August 16th. Two of the rioters, viz. Thomas Spencer and Mark Sattonstall were hanged on Beacon Hill near Halifax.
Mr Warburton does not say whether he attended this public spectacle, as many local people undoubtedly did.
For some unknown reason, there is then an interval of five years before the next and final observation, which begins on a new page.
The Autumn of 1788 was Mostly exceeding Dry Weather so that the water was so scarce that some people had to drive their cattle a great way to the water till the 15th day of January.
Perhaps '1788' was written by mistake for '1783'.
During the 18th century the population of England and Wales rose from about 5½ millions to 9 millions, a change due to a rather larger birth-rate and a much reduced death-rate. There were many reasons for this. On the whole, living conditions were improving: there was a general desire to help the poor and needy; and the agricultural revolution (in spite of riots) was making better food more widely available. Most important of all were the advances in medicine, about which G.M. Trevelyan says,
"The Physician, the Surgeon, the Apothecary and the unlicensed practitioner were all going forward apace in knowledge and in devoted service, especially to the poor, who had hitherto been horribly neglected."5
So, thanks to an untidy notebook, we find Apothecary Warburton playing his part in the scheme of things. To us he may appear as an amateur practitioner dispensing homely remedies, but to the people of Wibsey he would be a person, perhaps a friend, to whom they could turn in times of domestic crisis, whether to set a broken arm or draw a tooth, and all for a relatively small charge, as the various entries show. Dates are not always given.
Grace Sugden tooth 2d.
Bleeding H. Priestley 2d.
Febrifuge for 4 of the children at 8d. each
June 6th. Sowing your wife arm 6d.
Jas. Nettleton Clystering etc. 1s. 4d.
Jas. Smith of More top. June 16th. 1788
Setting your Son's Arm, Spirits etc. 1s. 6d.
17th. 18th. 19th. 20th. 21st. visits 2s. 7d.
('A cow drink for Wm. Barraclough' indicates a bit of veterinary work, because the Barracloughs had a farm close to the Warburtons.) One great boon, of course, was that Mr Warburton would have a supply of drugs not readily available in the village - things as diverse as sweating powders, worm pills and sassafras chips, for example.
Frequent references to patients at the workhouse indicate the importance attached to this duty, as in 1787, when two or three pages are taken up by details of the visits. Elsewhere we notice that on 27 March 1788 there are prescriptions for Grace Sugden and Hannah Priestley, both in the workhouse, with four further visits in April; and against James Wilkinson's name there is , 'A fumigation'. This seems to bear out Trevelyan's observation that the medical men of the day 'were all going forward … in devoted service, especially to the poor'.
The accounts show that Mr Warburton treated patients in Horton, Rooley, Bankfoot, Clayton, Brownroyd, Slack Top and Wyke, as well as in Wibsey, so his practice covered a wide area.
At least three children were born to the above James Warburton (from now on referred to as 'James Threapland Warburton I'), Sarah on 28 November 1792, James Threapland II on 17 February 1794 and William on 12 November 1798, and in all three baptismal entries the father's name is given as 'James Threapland Warburton of Wibsey, Apothecary'. The name of the mother of these children appears to be Mary, who died on 7 February 1837, aged 81. She was therefore of a similar age to her husband, and their children were born when their parents were in their late thirties or early forties.
James Threapland Warburton I died on 9 May 1820, aged 64, and was buried in Holy Trinity churchyard, his gravestone including the words 'of Wibsey, Surgeon'. His elder sister, Margaret, who was born on 10 August 1746, was buried on the same day as her brother, she having died on 8 May, and the joint funeral took place on 14 May.
In due course James Threapland Warburton II followed his father's profession and in the 1851 Census is shown as having been a surgeon in general practice since before 1815, that is at 21 years of age or under.6 It must be this Mr Warburton who, in 1822, built the small terrace, complete with date stone, still to be seen next to the family house in the lower part of Wibsey village. He appears to have remained in practice until his death on 27 June 1856 (not 1857 as in Parker's Illustrated Rambles from Hipperholme to Tong). Then, as Parker says, a monument to his memory was erected in Wibsey Congregational Chapel ground and was paid for by public subscription, such being the esteem in which he was held by patients, colleagues and friends. The same memorial stone on which details of his public life and his date of death are recorded bears the following further inscription:
Henry Alfred Warburton MRCS LSA
Eldest son of the aforesaid James Threapland Warburton
Surgeon, Wibsey, Who died 23 January 1892
aged 73 years
At first I could not find any record of the birth of Henry Alfred Warburton, and in addition it seemed strange that the eldest son should have been baptised without at least one of his father's Christian names, while, as I was to discover, a son born 5 November 1826 was given the by now traditional names, James Threapland. Ultimately the baptismal entry at Bradford Parish Church was traced: '14 February 1819 Henry Alfred Bastow, son of Betty Bastow, spinster of Wibsey', and I found that the marriage of James Threapland Warburton II, Surgeon, and Betty Bastow, took place at the Parish Church some five years later, on 17 January 1824. Their daughter, Hannah, was baptised on 6 June that year and, after their son James, as mentioned above, two more daughters were born, Isabella (or Isobel), 11 February 1830 and Mary Ann, 12 February 1834.
It is difficult to account for the fact that James Threapland Warburton II did not marry the mother of his eldest son until some five years after the child's birth, when he was already 25 years of age and had been practising his profession for about five years. One possibility, of course, is that he was already married, but not to Betty Bastow, by whom he had five children. It may be that a 'first wife', if there was one, died young and childless, and that he was then free to marry the mother of his five-year-old son. Bradford Parish Church registers do indeed show two marriages of 'James Warburtons' around 1815. One took place on 15 May 1815 to Sarah Hustler, the groom being a weaver who could not sign his name. The second took place on 17 April 1816, the bride's name being Martha Cawthra. She signed the register with a cross, but James Warburton, stated to be a weaver - the same occupation as the next entry on the same page on the same day - signed his name quite clearly. This signature is not unlike that of 'James Warburton, Surgeon' (n.b. 'Threapland' is not included) when he married Betty Bastow on 17 January 1824. I was, however, unable to trace the death of a Martha Warburton around 1823-24, although any such death and burial may have taken place outside the Bradford area.
According to the records of the Society of Apothecaries in London, neither James Threapland Warburton the first, nor the second, were registered as members, but their training may have been obtained through local experience, with a certain amount of self-help. Dr. Henry Alfred Warburton's qualifications, however, are in no doubt. The General Medical Council records state that he gained his MRCS in 1845 and the LSA on 15 July 1847. He was registered with the Council on 1 January 1859, immediately after the establishment of the Council.
When James Threapland Warburton II died in 1856, the will he left referred to his son as Henry Bairstow Warburton. Some seven years later a memorial was registered at Wakefield, on 24 April 1863, regarding the will dated 9 January 1854. This memorial states that one of the devisees, 'Henry Alfred Warburton aforesaid Surgeon' was called in the will 'Henry Bairstow Warburton'. Note that the spelling is 'Bairstow', not 'Bastow', the maiden name of Henry Alfred's mother.
In Illustrated Rambles Parker writes:
"The Warburtons came of an old family, who originally came from Cambridge to Park House, Low Moor, early in the 17th century, and while located there intermarried with the Threaplands, a family who had been also connected with the medical profession. … In 1753, the Warburtons purchased some land at Wibsey, and erected the house which has been occupied by members of the family up to their death, and it was there that they carried on the medical profession uninterruptedly for over 160 years."7
The Low Moor Company's map of 1811 does not indicate distinctly the ownership of the particular piece of land where the Warburton house stands, but in the Land Tax Records of 1784, 1787 and 1788, 'Jo Warburton' is stated to be the owner-occupier, paying 4/- per annum. By the time of the Tithe Map of 1840, four parcels of land and the family house are clearly shown as owned and occupied by James Warburton. Like his father and his great-grandfather, Joseph, Henry Alfred Warburton continued the building tradition, for in his will dated 21 March 1891 he leaves to his sister, Mary Ann Webster, 'the house recently built by me and converted from part of the house', and indeed signs of substantial a1terations to the property can be discerned externally. He also left to Mary Ann and his other sister, Isabella Henderson. cottages in the vicinity of the family home and in Knights Fold, Great Horton. His nephew, Dr James Threapland Henderson, was to have the use of the dwelling house and surgery 'during his life'. Dr Warburton's brother, James Threapland III (born 5 November 1826) was also to continue to have the use of a cottage at Wibsey plus 'an Annuity of £78 during his life'. He is variously recorded as a farmer, a dentist and a coachman.
Dr H.A. Warburton's estate for probate purposes amounted to the not inconsiderable sum of £15,084. He left no direct heirs, though a daughter, Sarah Elizabeth, was born on 28 March 1859, and was baptised on 30 March at the Congregational Chapel, Wibsey, but the immediacy of the baptism suggests that the baby did not live very long, and she does not appear on any Census returns.
So the name of this old medical family of Wibsey finally came to rest in James Threapland Henderson, who carried the baptismal names first given over a hundred years earlier. It is both significant and appropriate that his younger brother should be named Henry Alfred Warburton Henderson. Their mother was, of course, Dr. Warburton's sister, Isabella, who married Christopher Henderson, a pharmacist with a shop just a stone's throw from the surgery. The chemist's shop was later handed over to their second son Henry A.W. Henderson (known as 'Harry') who, like his father, was a qualified M.P.S.
When Dr J.T. Henderson died in 1936 the following announcement appeared in the Bradford Telegraph & Argus:
"On October 10 1936 of Low Croft, Holroyd Hill, Wibsey, Dr James Threapland Henderson MRCS, the beloved husband of the late Isabell Henderson, aged 76."
from which it appears that there were no children, or at least no surviving children. No other relatives are mentioned, though some were known to have been living in other parts of the country. Although the available information about the Threapland Warburtons is often fragmentary, it provides us with an interesting glimpse of four apothecaries and doctors whose lives covered important years of change, from a time when Wibsey was an isolated village on the southern hillside of Bradford-dale, to the early part of the 20th century, when it had become a desirable suburb of a large city.
The Warburtons of Wibsey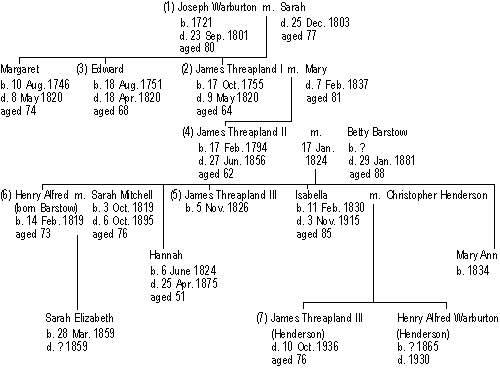 Notes
1. Joseph - probably bought land in 1753 and built the house that was occupied by members of the family for nearly 200 years
2. James Threapland I - the apothecary and principal writer in the vellum notebook
3. Edward - elder brother of the above and probably the original owner of the notebook. Recorded as 'weaver woolstapler woolcomber and coal stayman'. (Baptismal registers of Holy Trinity, Low Moor).
4. James Threapland II - Builder of the terrace of cottages dated 1822. In practice as an apothecary 'before 1815' and the 'surgeon' to whom the memorial was raised by public subscription.
5. James Threapland III - 'farmer dentist and coachman'.
6. Henry Alfred - M.R C.S., L.S.A. died without descendants
7. James Threapland Henderson - nephew of Henry Alfred. Gave the notebook to Bolling Hall Museum in 1928.
References
1. In 1606, largely at the request of William Rookes of Royds Hall and Richard Richardson of Bierley Hall, permission was given to build a chapel-of-ease at Low Moor. This was a private chapel but in 1636 it was consecrated and dedicated to the Holy Trinity. From that time, although still known as Wibsey Chapel, it was served by a curate under the direction of the Vicar of Bradford. The district was formerly Wibsey Low Moor and until as recently as 1965 Holy Trinity was officially the parish church of Wibsey. St Mark's, Low Moor. was built in 1857 and although St Paul's, Buttershaw, built in 1838, is in Wibsey village, there is now no 'parish of Wibsey' (back)
2. Deel, or deels, is a term often used in accounts of around this period. The same as deal and described as 'a plank of fir at least 7 inches wide' (back)
3. It is interesting to note that although this country adopted the Gregorian calendar ('New Style') in 1752, when 2 September was followed by 14 September, thirty years later New May Day (13th) had failed to oust Old May Day. The fact that the former was remembered at all now seems surprising. (back)
4. J. James, History and Topography of Bradford, 1841, p.156 (back)
5. G.M. Trevelyan, English Social History, 1942, 3rd ed. 1946 p.344 (back)
6. In the 1851 Census J.T. Warburton II indicates that he had been in practice 'before 1815'. Was this a date specified by the Census Officer, or one that everybody remembered because of Waterloo? (back)
7. J. Parker, Illustrated Rambles from Hipperholme to Tong, 1904, p.148. Like many of us mortals, Parker is often imprecise. A continuous practice of 160 years from 1753 would have ended in 1913, nine years after his book was published; but James Threapland I, the apothecary, was not born until 1755. (back)
Quotations from the Warburton Notebook are made by kind permission of the West Yorkshire Archive Service, Bradford.
© 1989, Stella H. Carpenter and The Bradford Antiquary